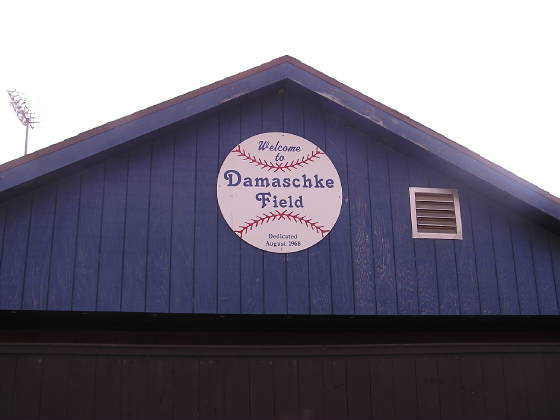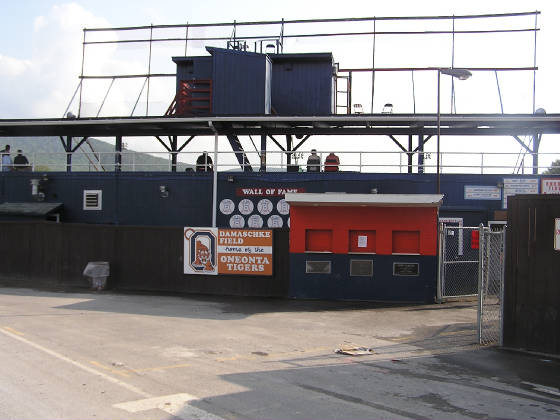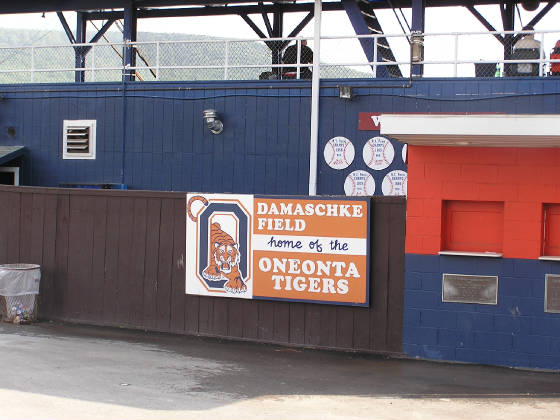 TEAM ::: ONEONTA TIGERS
LOCATION ::: ONEONTA, NEW YORK
MY FIRST GAME ::: AUGUST 18, 2001
OPPONENT ::: MAHONING VALLEY SCRAPPERS
LEVEL ::: NEW YORK - PENN LEAGUE A
RATINGS
BALLFIELD ::: A
SCOREBOARD ::: C-
FOOD ::: LIMITED
FACILITIES ::: C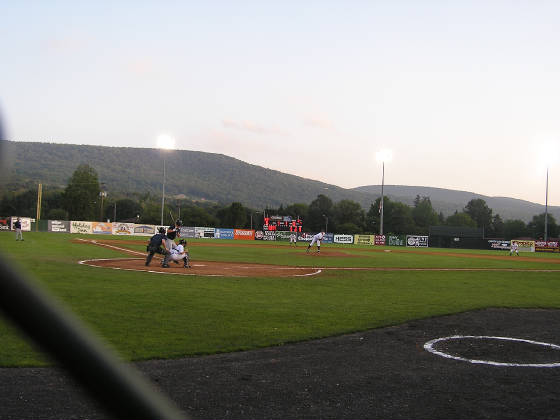 MY TAKE ON THE PARK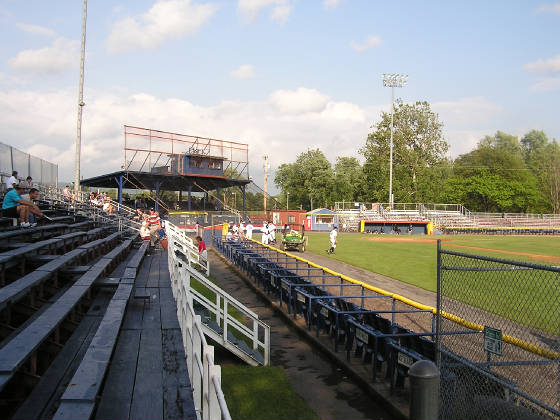 AN UPDATE ON DAMASCHKE FIELD, THERE IS AN EXTENSIVE RENOVATION GOING ON HERE SO THE PHOTOS ON THIS PAGE WILL NEED TO BE UPDATED.
REGARDLESS OF THE RENOVATIONS, THIS PARK WILL CONTINUE TO BE A TRIP BACK
IN TIME AND STILL HAVE A SPECTACULAR VIEW.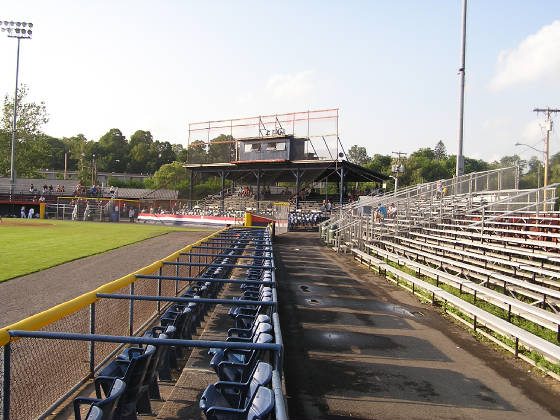 NO TWO WAYS ABOUT IT ... THIS IS AN OLD TIME PARK WITH NO FRILLS AT ALL.

AND EVEN THOUGH IT IS NOT THE MOST COMFORTABLE PLACE TO SEE A GAME, THIS

PLACE WORKS.

DAMASCHKE FIELD IS LOCATED IN NEAHWA PARK WHICH IS EASILY

ACCESSIBLE TO INTERSTATE 88. ONCE ENTERING THE PARK FOLLOW THE SINGLE
LANE ROAD TO THE PARK, PARKING IS ON THE BIG DIRT PATCH ALONG THE THIRD
BASE SIDE OF THE PARK.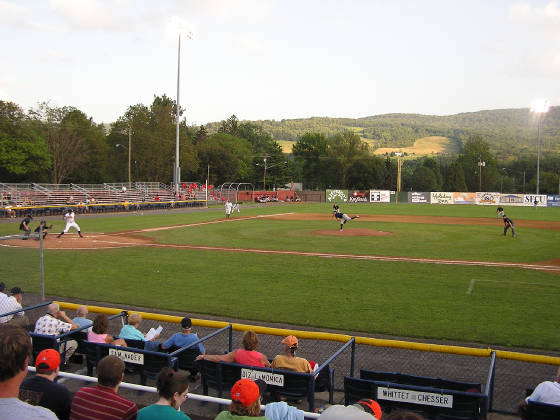 UPON ENTERING THE PARK, A PARK WHICH IS VERY INFORMAL, SOMEBODY MAY BE
IN THE TICKET WINDOW, SOMEBODY MAY NOT. I HAVE BEEN TO GAMES WHERE NO
TICKETS WERE NEEDED, JUST SEEMS NORMAL HERE IN ONEONTA.

GENERALLY, THE TICKETS ARE ALL GENERAL ADMISSION, CHOICES ARE OLD WOODEN
BLEACHERS DOWN THE FIRST BASE SIDE OR METAL BLEACHERS DOWN THIRD, EITHER
WAS COMFORT IS NOT A CONSIDERATION.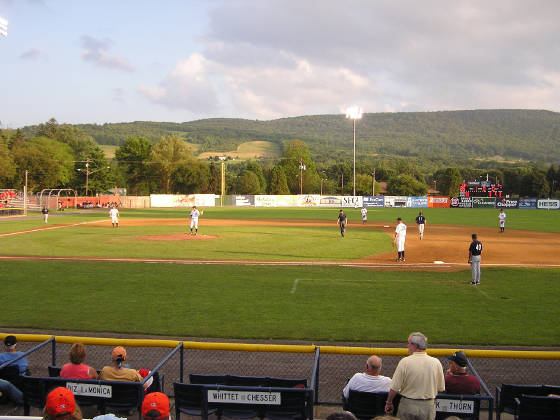 THE 2 ROWS OF BOX SEATS NEXT TO THE FIELD ARE FOR SEASON TICKET HOLDERS,
THE FIRST BOX ON THE FIRST BASE SIDE BELONGS TO THE OWNER, SAM NADER,
WHO WILL BE THERE NIGHTLY. PERSONALLY, I FEEL HE SHOULD BE THANKED FOR
KEEPING ONEONTA A DESTINATION WHERE A PURE BASEBALL GAME CAN BE FOUND.

GIVEN ALL OF THE INFORMALITIES, ONE WOULD THINK THE FIELD WOULD SUFFER.
IT DOES NOT, IT ACTUALLY IS ONE OF THE BEST FIELDS I'VE SEEN.
CONSIDERING THE VIEWS BEYOND THE LEFT FIELD WALL, THIS DEEP GREEN THICK
LAWN JUST ADDS TO THE SCENERY.

BEING AFFILIATED WITH THE TIGERS GIVES ONEONTA ANOTHER BENEFIT. THE
UNIFORMS! THE DETROIT TIGERS HAVE ONE OF THE CLASSIEST UNIFORMS IN
BASEBALL, ONEONTA BENEFITS BY THIS BY TAKING THE OLD ENGLISH 'D' AND
REPLACING IT WITH AN OLD ENGLISH 'O'.


ONEONTA IS A DESTINATION IF YOU ARE LOOKING FOR A BASEBALL GAME. THERE
IS A MASCOT, WHO I HAVE NEVER SEEN, BUT THAT IS THE EXTENT OF THE
FRILLS.
IF YOU ARE TIRED OF THE EXCESSIVE LOUD MUSIC BETWEEN EVERY PITCH,
OVERACTIVE STAFF SHOUTING OUT TO THE CROWD, AND THAT SAME "NAPOLEON
DYNAMITE" VIDEO ON THE SCOREBOARD, HEAD OUT TO ONEONTA TO SEE WHAT THE
GAME WAS LIKE BACK IN THE OLD DAYS. SPEAKING OF OLD DAYS, IF ANY MUSIC
IS PLAYED THAT ISN'T FROM THE OLD DAYS, YOU CAN EXPECT HECKLES FROM THE
CROWD.
DESPITE THE DISCOMFORT OF THE BLEACHERS, I THINK YOU WILL WANT TO COME
BACK AGAIN AND AGAIN.

BY THE WAY, THANK YOU SAM NADER FOR MAKING ONEONTA A GREAT PLACE TO SEE
A GAME.

THE LINE UPS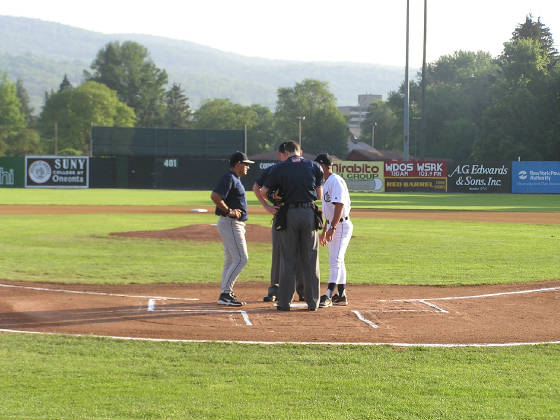 MAHONING VALLEY SCRAPPERS MANAGER
45 Dave Turgeon

ONEONTA TIGERS MANAGER
30 Gary Green
MAHONING VALLEY SCRAPPERS
1 Dennis Malave cf
29 Chad Peshke 3b
7 Josh Bard c
36 Rickie Morton dh
37 Miguel Quintana rf
28 Brian Kirby lf
22 Curtis Gay 1b
9 Bryce Uegawachi ss
13 Maximo Made 2b
36 Victor Kleine p / LP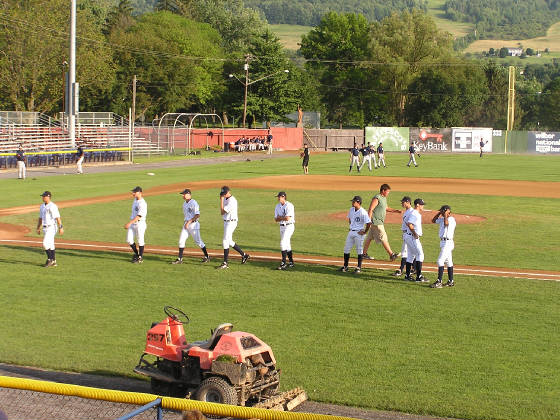 ONEONTA TIGERS
14 Don Kelly ss
10 Jason Knoedler cf
54 Mike Rabelo c
15 Ryan Raburn 3b
19 Andy Yount rf
26 David Mattle lf
25 Jed Stringham 1b
13 Mark Reuffert dh
18 Richard Gomersall 2b
24 Jeremy Johnson p / WP
52 James Gonzales S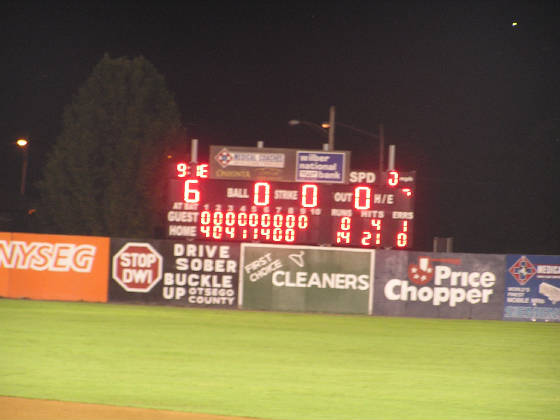 M VLY SCRAPPERS 000 000 000 0 3 0
ONEONTA TIGERS 100 000 000 1 5 0

TIME ::: 2:05
ATTENDANCE ::: 429
WEATHER ::: 80 CLOUDY
SEND ME AN E-MAIL

LINKS
Oneonta weather from WEATHER.com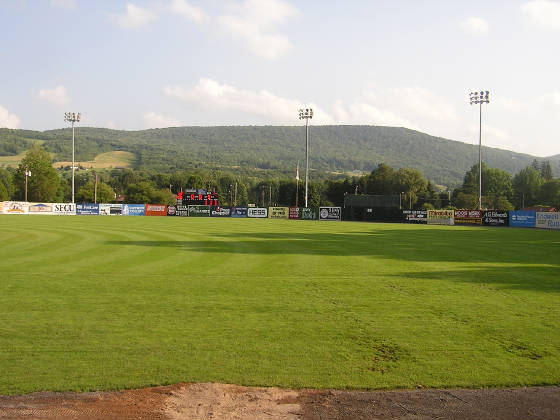 © 2000-2012 UNCLE BOB'S BALLPARKS
I AM IN NO WAY AFFILIATED WITH ANY OF THE TEAMS ON THIS PAGE ... THIS PAGE IS MEANT FOR INFORMATION PURPOSES ONLY.